Electronic & Tech
More Than Just A Rice Cooker! 4 Best Rice Cooker Brands You Can Buy in ezbuy!
What What Your Rice Cooker Do? 
Rice cookers have become popular cooking devices used to prepare all kinds of rice, as well as different kinds of delicious dishes. You can cook all unique dishes from pan fry to stew. Surprised? Try out these versatile rice cooker recipes and see just how much range this gizmo possesses. We recommend you with the Scramble Eggs or maybe a simple omelette.
With just some simple ingredients; eggs, capsicum, a pinch of salt and cheese, whisk it up and it is ready to cook in your very own rice cooker. As simple as that!
Not challenging enough? How about this?
Easy Soy Sauce Chicken Wings in Rice Cooker Recipe is as simple as A,B,C! After marinating all the ingredients, add 250 ml water into the marinade mix and wait till its cooked and concentrated.
Too simple? Try this.
Who would ever thought to bake a cake using a rice cooker? An instant cake mix, a few ingredients and a rice cooker, will cut down your baking desire using the oven. 😀
Don't u think this is fascinating and fun? It is like a mini project for everyone to try and it is healthy! However, you need to find the best rice cooker for your healthy cooking activities. Normal rice cookers do not have thick layers inner pot, not a none stick material and unable to cope with too long heat. So, make sure you have the right rice cooker to start your healthy project.
Now, here are 4 best rice cookers from our Local Marketplace.
Khind Rice Cooker
Khind is one of the most trusted brands especially when we are talking about rice cooker. The quality is tip top and you can do the hard core way with Khind Rice Cooker. It has a solid surface and thick material where you can cook heavy recipe such as Biryani Rice, Chicken Rice, Ribbed Stew and more.
Panasonic Rice Cooker

Panasonic is like the best friend that you want to hang out with. It has the best design out of any rice cooker ever created. This Rice Cooker is the top choice for all singles and dorm students as it is handy and easy to use. You can boil eggs, sauteed vegetables, steam and even treating it like a microwave.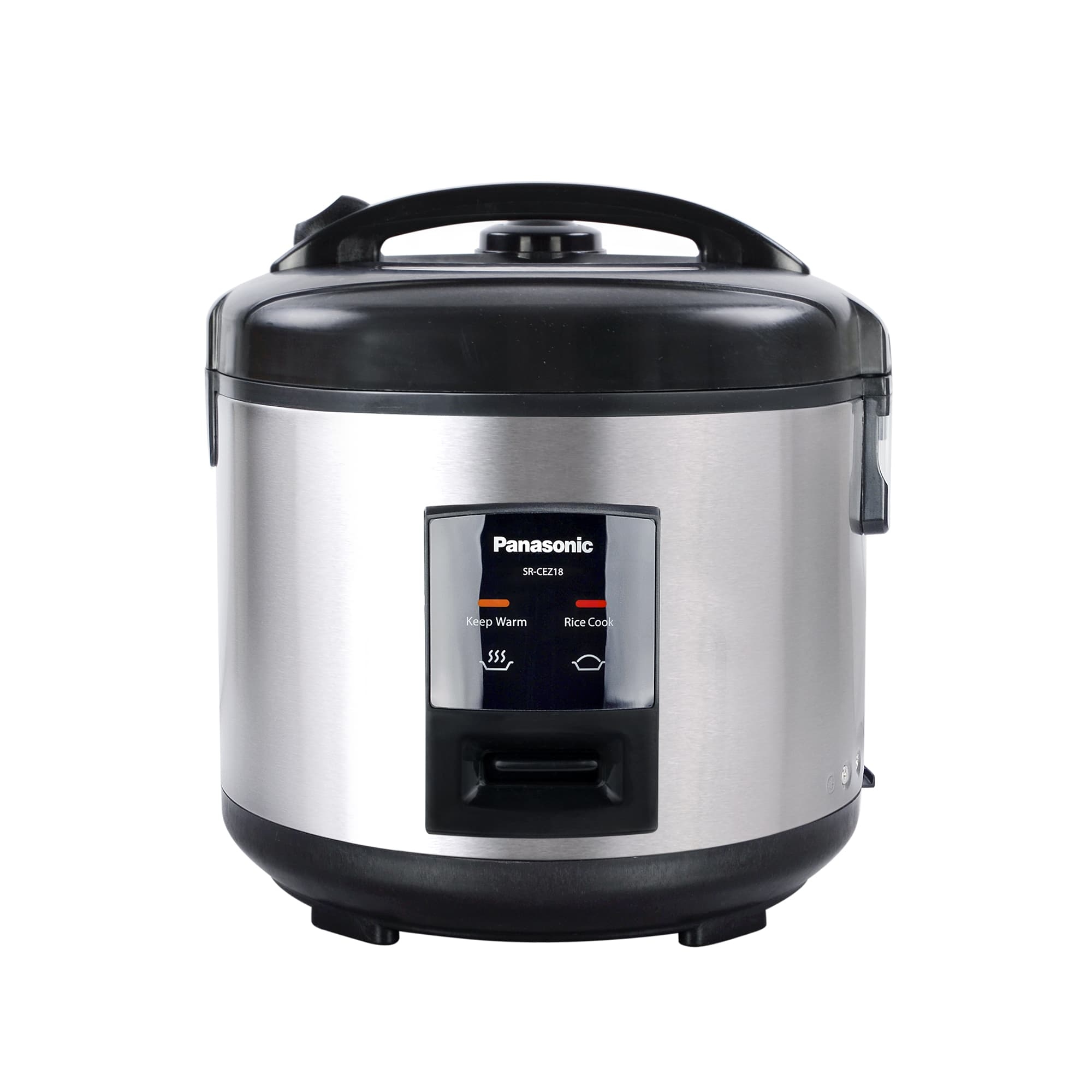 Alpha Living Rice Cooker

Alpha Living Rice Cooker is another top choice to choose for everyone's household. It may be a little expensive compared to other brands but hey, it's a good price with an A class benefits!
Do you know cooking rice using a ceramic pot or cooker tasted better and healthier? With Alpha Living Multifunctional Ceramic Rice Cooker you can make the best Ginseng Soup with 6 L Power! Not only the healthy Ginseng Soup, with this rice cooker, it is up for a deep fry challenge, making delicious ebi tempura and even fried chicken!
Tefal RK5001 Mini Rice Cooker

Tefal, is a smart and multi cooker that will complete your everyday needs. This smart multi cooker can cook almost everything from rice to any other ingredients like vegetables, meat and fish. It has six cooking programs that fit every meal for a perfect result; Expert, Quick cooking, Congee, Brown rice, Soup and Cake.


Philips HD3060

The perfect size to create multiple healthy recipes and is suitable for single and small families. With Philips HD3060, there will be no leftovers. The Philips HD3060 allows you to select from reheating and warming functions with just one touch. It has six menus user can set 24 hours in advance. You can cook your favorite meat stews and adjust it for 1-4 hours to get testier results. There is no need walking to and fro gazing at the kitchen.
Now, choose the best rice cooker you can get from ezbuy.my with affordable price and the best shipping method. Ant to all ezbuy readers out there, here is one simple and tasty recipe that you can try to start your rice cooker challenge. Enjoy!
Rice Cooker Shrimp Fried Rice
INGREDIENTS:
• 3 tablespoons soy sauce
• 1 tablespoons sesame oil
• 1/2 teaspoon ginger powder
• 1/2 teaspoon white pepper
• 2 tablespoons olive oil
• 1 pound medium shrimp, peeled and deveined
• Kosher salt and freshly ground black pepper, to taste
• 2 cloves garlic, minced
• 1 onion, diced
• 2 carrots, peeled and grated
• 1/2 cup frozen corn
• 1/2 cup frozen peas
• 3 cups cooked rice
• 2 green onions, sliced
DIRECTIONS:
1. In a small bowl, whisk together soy sauce, sesame oil, ginger powder and white pepper; set aside.
2. Heat olive oil in a large skillet or wok over medium high heat then add your shrimp and stir until the shrimp turns pink. Put some seasoning of  salt and pepper to the shrimp to taste and set aside.
3. Next, add garlic and onion to the skillet, cook and stirring it often, until the onions have become translucent. After about 3-4 minutes, stir in the carrots, corn and peas and cook until the vegetables are tender.
4. Last but not least, stir in the rice, green onions and soy sauce mixture. Cook, stirring constantly, put the shrimps and wait for about 2 minutes and serve immediately.
AND YOU ARE DONE!
So much you can do with your very own rice cooker. There is no need to spend more on gas stove as it is quite dangerous. Only a minimal time needed to make all your dish properly cooked in a healthy way. So, are you up for the challenge with our best and trusted rice cooker brands?  For more info on ezbuy latest festive offers, log on to www.ezbuy.my!